Customize Tour
Customizable itineraries where you may choose transport, stay & sightseeing as per your taste & comfort

Kuta - 3 Day

Ubud - 3 Day

Bali - 1 Day

Discuss On WhatsApp

Call our Holiday Expert

Submit Query
About Tour
Experience the ultimate romantic escape with a meticulously crafted 7-day Bali Honeymoon Package. This adventure-packed itinerary ensures an exhilarating and culturally rich journey for you and your partner. The journey kicks off with adrenaline-pumping water sports—a banana boat ride, couple parasailing, and jet skiing—a thrilling start to your blissful union. Immerse yourselves in the stunning Uluwatu Temple Tour, where the breathtaking cliffside vistas perfectly complement the cultural richness of this sacred site.
The highlight of your trip is the full-day Nusa Penida West tour. In a private setting, explore four mesmerizing beaches—Kelingking Beach, Angel's Billabong, Broken Bay, and Crystal Bay. Embrace the opportunity for complimentary snorkeling, a chance to discover the vibrant underwater world, if time allows.
A cultural extravaganza awaits as you visit Taman Ayun and the iconic Tanah Lot Temple, setting the scene for a captivating sunset tour. Indulge in the beauty of Bali's landscapes with a trip to Kintamani, where the majesty of Mount Batur and the serene Tegalalang Rice Terrace awaits. A stop at a coffee plantation adds a flavorful twist, while the Bali Jungle Swing provides an adrenaline rush coupled with a sumptuous local lunch. Delve into Denpasar's heart with a city tour, exploring the bustling Kumbasari Market, the historic Puputan Square, and the symbolic Bajra Sandhi Monument. Throughout this journey, the blend of adventure, cultural exploration, and breathtaking landscapes creates an unforgettable tapestry of experiences, perfect for cherishing the start of your new chapter together. This meticulously curated package ensures a delightful balance of adventure, relaxation, and cultural immersion, setting the stage for an unforgettable honeymoon in the paradisiacal realm of Bali.
Themes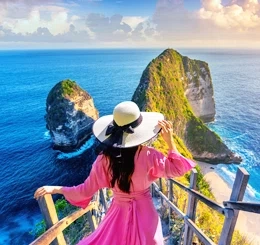 Bali
Itinerary Highlights
A PHP Error was encountered
Severity: Warning
Message: Invalid argument supplied for foreach()
Filename: views/package_landing.php
Line Number: 1992
Backtrace:
File: /home/bharatbo/public_html/www.bharatbooking.com/application/modules/holiday/views/package_landing.php
Line: 1992
Function: _error_handler
File: /home/bharatbo/public_html/www.bharatbooking.com/application/third_party/MX/Loader.php
Line: 362
Function: include
File: /home/bharatbo/public_html/www.bharatbooking.com/application/third_party/MX/Loader.php
Line: 304
Function: _ci_load
File: /home/bharatbo/public_html/www.bharatbooking.com/application/modules/holiday/controllers/Holiday.php
Line: 143
Function: view
File: /home/bharatbo/public_html/www.bharatbooking.com/index.php
Line: 317
Function: require_once
Inclusion,Exclusion,Cancellation & Package policy
Customize Tour
Customizable itineraries where you may choose transport, stay & sightseeing as per your taste & comfort

Kuta - 3 Day

Ubud - 3 Day

Bali - 1 Day

Discuss On WhatsApp

Call our Holiday Expert

Submit Query
Feel free to call us
Toll Free No. :

1800-532-3636

,

1800-212-0136

24/7 Service . :

+91 9816348636

,

+91 88263-03636
Mail Us : help@bharatbooking.com