Nagaland
Nagaland offers unending exploration possibilities from heritage villages to wildlife sanctuaries. Beautifully nestled amidst the lush and verdant sub-tropical and sub-alpine climate, Nagaland treasures an overabundance of wild flora and fauna and even some medicinal plants. Nagaland is a beautiful destination in India and it stores some popular places to visit. You can soak in the freshness of fine scent in the air, the calming yet buzzing sound of wild cicadas and beautiful rolling ranch lands and white fluffy clouds hovering above.
Capital: Kohima Location: North East India
BEST TIME TO VISIT NAGALAND:
Winters from October to February are an ideal time to visit Nagaland.
WHY VISIT NAGALAND?
Nagaland can be visited to experience holiday destination and witness unique heritage sites, rich wildlife, local festivals, delicious cuisines, beautiful handicrafts, cultural shopping, attractive places, attractions and more.
TEMPERATURE IN NAGALAND:
16°C - 31°C

Summer
March - April

21°C - 40°C

Monsoon
May - September

4°C - 24°C

Winter
October - February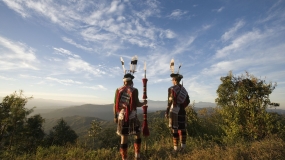 Nagaland & Manipur Tour
6 Night / 7 Days
2D Dimapur, 2D Kohima,
All + 1
Destinations
2D Dimapur,
2D Kohima,
3D Imphal,